Looking for some tips on how to ensure your work environment is ergonomically friendly?

Are you part of a sports team wanting to ensure your team stays healthy and injury free this season?
Look no further!
Over the last several years I have had amazing opportunities to lecture on various health and wellness topics in all sorts of arenas. I have held workshops at major corporations including Nissan Canada, order Rogers Mississauga and Virelec Ltd. I have also worked with many athletes through my workshops at Running Rooms across Mississauga and most recently counseled the Brampton Rebels soccer club.
Each seminar or workshop is tailored to your specific needs and I guarantee that participants will leave each presentation feeling more confident and in charge of their own health.
If you would like to have me speak at your workplace or upcoming event please contact me.
Here are some of my most requested topics/discussions.
SPORT INJURY PREVENTION
How to stay injury free this season
This session includes discussion of the most common injuries to various athletes and how to prevent these injuries using stretching and strengthening techniques, Active Release Technique and it's effectiveness in treating running injuries
CORE STABILITY TRAINING 101
This session teaches individuals how to actively engage the core muscles safely, using various pieces of equipment and their own body weight. This is a very popular session as research has shown that increases in core stability does decrease common sports-relate injuries. There is also a focus on increasing spinal stability, which has been shown to effectively prevent common lower back injuries. The goal is to teach athletes how to train effectively to keep them safe during the season.
ERGONOMICS
How to set up your workstation an achieve optimal postures
The goal of this Seminar is to provide fundamental ergonomic information to employees. Most companies will choose this seminar so that everyone can learn about ergonomics and be taught how to personally address basic problems at their own workstation whether it be at a desk or in a car. The goal is also to raise awareness with the intent of preventing areas of discomfort from becoming injuries.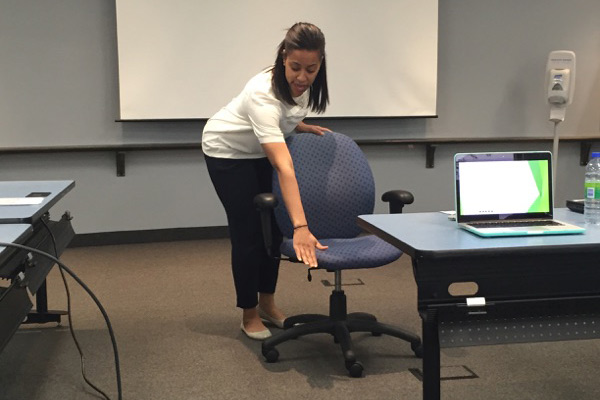 The seminar includes:
• An exercise on how to identify the 5 main ergonomic risk factors in the office;
• Presentation of an Ergonomics Tip Sheet and a hands-on demonstration of how it can be used to improve the ergonomics at each employee's desk;
• Presentation of an Exercise Sheet with a group stretching session;
• A stress reduction exercise
MUSCULOSKELETAL DISORDERS
How to Prevent Musculoskeletal Disorders in the Workplace – An Educational Approach to Injury Prevention and Safety
The goal of this seminar is to reduce on-the-job injuries and WSIB claims by educating employees about what Musculoskeletal Disorders are and how to prevent them. I will educate your audience on the warning signs and symptoms of a musculoskeletal problem, what can cause them both at work and at home, what the risk factors are, and how to prevent them from occurring.